I am Christopher Lones the designer and builder of  Blackstar radio controlled sailboats since 1983. All my boats are Fiberglass with Carbon Spars and Mylar sails.

Like most people who enjoy tinkering in the garage with their hobbies, I have just taken it a little further. I build every boat I sell, and that is well over two-thousand to date. They are a quality product that you will get many years of joy from. The boats are all built using exacting molds, scales, and templates so that I can produce the same boat every time.

 Footy Class has become very popular around the world and the Blackstar Footy is a great way to get into this rapidly growing class. It is one of the few ready to sail boats available.


New for 2010 my new Blackstar 30, this boat has excellent sailing characteristics and will taken on much bigger boats.

Blackstar SS is a new sport skiff modeled after a modern sport racing shiff like the Bic Open. It is easy to sail with excellent performance. 

They all sail and look great on the water or on display.
If you are in the Miami Fl area we sail at Baptist Hospital 3 pm Sundays.

If you are in the Denver Area I am starting up sailing at Harper Lake eamail me for times

Friends:
www. footy-seniors.com
Check out my friends Land Sailors, very cool !!!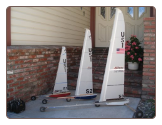 www.modellandyachts.com
Radio controlled sailboat
New Projects coming soon
31 inch Sport Fish